A Full Menu of Cheesy Delights
We are open seven days a week, 11:00AM until 10:00PM, for dine-in, delivery or pick-up.
Happy Hour, 3-7PM, Monday - Friday.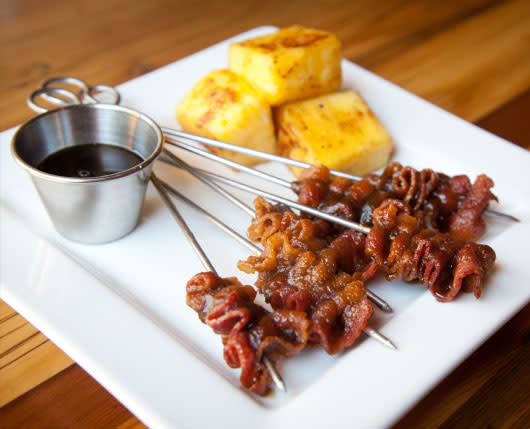 Starters
Cheesiest Fries
Three cheeses! Cheddar, Jack and Smoked Gouda, 
topped with bacon and green onions.
$6.99
Bacon Pineapple Lollis
Eight skewers of delicious bacon, coated with brown sugar, maple syrup, and cinnamon-dusted grilled pineapple
$9.99
Four-Cheese Bacon Mac & Cheese
Special blend of four cheeses, topped with bacon
$7.99
Bruschetta Bites
Fresh tomatoes tossed with garlic, extra virgin olive oil, kosher salt, black pepper and basil, and fresh mozzarella, served on grilled bread drizzled with a balsamic glaze
$7.99
Pretzel-Fried Mozz
House-made pretzel-coated mozzarella and house marinara
$6.99
DGC Wings
Twice-fried crispy Buffalo wings, served with house-made bleu cheese and celery
$6.99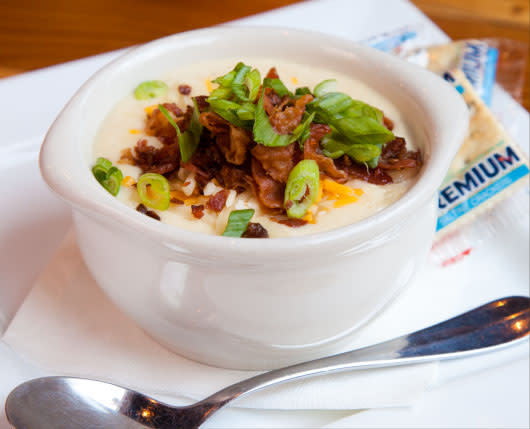 SOUPS
DGC Old World Tomato Basil
Extra-virgin olive oil, yellow onion, garlic, crushed tomatoes, 
chopped basil and butter, served with croutons
$4.99
French Connection
Sautéed yellow onions and rich broth, topped with croutons and provolone cheese then broiled until golden brown
$4.99
Baked Potato Soup
Creamy, chunky potato soup topped with cheese, green onions and bacon. It's a baked potato you can dip your sandwich in!
$4.99
DGC Chili
Texas born, Texan made. Our secret blend of chili seasonings, slow-cooked, topped with red onion, cheese and fried jalapeños.
$5.99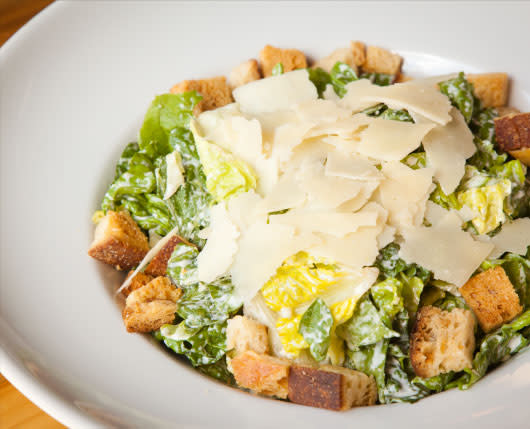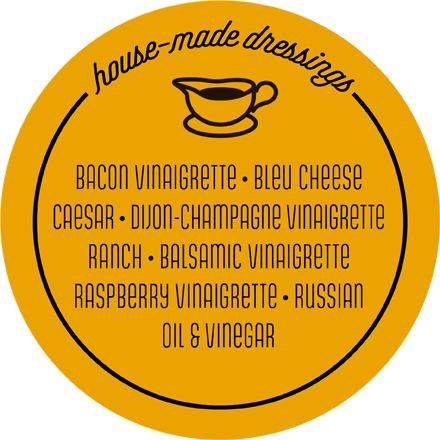 SALADS
The Julius
Chopped romaine, shaved parmesan; tossed with
house-made croutons and house-made Caesar dressing
full $6.99 | half $4.99
The Swee'Pea
Baby spinach, honey-toasted pecans, Bleu cheese, fresh strawberries and fresh blueberries; light and refreshing
full $9.99 | half $6.99
Eruca Salt
Arugula, shaved parmesan; tossed with freshly-squeezed 
lemon juice, extra virgin olive oil, black pepper, sea salt
full $8.99 | half $4.99
The Cobb
Romaine & iceberg lettuce, cucumbers, tomatoes, cheese, bacon. Topped with mini grilled cheese croutons
full $8.99 | half $5.99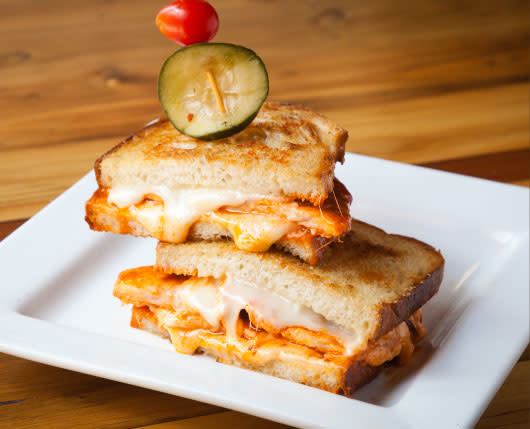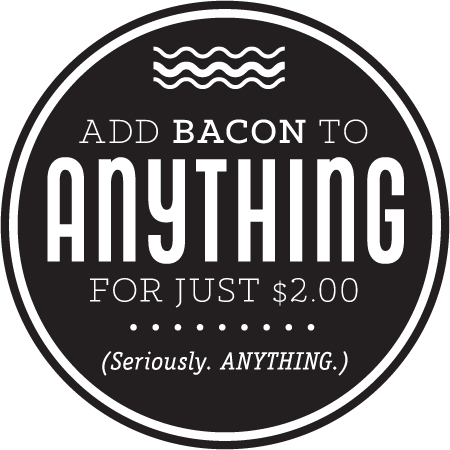 SANdwiches
Classic
Grilled white bread, American cheese
$2.99
Bologna
Grilled white bread, fried bologna, mayo, American
$4.99
Grilled PB&J ~Adult~ Grilled, thick Texas Toast, special peanut butter 
and cream cheese mix, with grape jelly
~Child~ White bread, served cold, without the cream cheese Adult $5.49 | Child $3.49
Grilled Cheese-Cheese Burger
House-seasoned, fresh ground beef, Swiss, White & Yellow Cheddar, Dijon mayo, all on a fresh Ciabatta roll
$9.99
The Favorite
Parmesan-crusted grilled sourdough with American, cheddar 
and Gruyère cheeses, crumbled bacon, Dijon mustard
$9.99
The Dude
Our take on the classic Manwich® from your childhood: grilled 
sourdough, lean ground beef, original Manwich® Sloppy Joe 
sauce, white Cheddar
$7.99
Cattleman's Grilled Cheese
Juicy smoked brisket, Muenster, Smoked Gouda & Yellow Cheddar on Rustic Bread, served with a side of house-made BBQ sauce
$12.99
Spicy Two-Pork & Cheese
Grilled sourdough, ham, bacon, Swiss, cheddar, spicy jam
$11.99
Bacon Jalapeño Popper Grilled Cheese
Freshly Roasted Jalapeños, Sour Cream, Bacon, Cream Cheese, Jack & Cheddar Cheeses and Spicy Pepper Jam on White Bread
$10.99
Grilled Pimento Cheese House-made three-cheese pimento cheese (Mascarpone, Brie, and Cheddar, blended with mayo, roasted red peppers & seasoning), and fried onion strings on a fresh Ciabatta roll
Make it meaty with juicy, slow-cooked, smoked brisket, add $2.50
$9.99
Buffalo Chicken
Grilled sourdough and marinated chicken breast, with Swiss 
and DGC wing sauce
$9.99
Brie & Bacon Grilled Cheese
Gooey Brie, crispy bacon & caramelized onions, Rustic Paisano
$12.99
Grilled Mac 'N Cheese Grilled sourdough, smoked Gouda, American, mac & cheese
~OR~
Make it meaty with juicy, slow-cooked, smoked brisket and a side of our delicious house-made BBQ sauce add $2.50 $10.99
Rustic Grilled Cheese
Rustic white bread, smoked Gouda, Muenster and yellow Cheddar; Gooey and simply delicious, just as it was meant to be
$8.99
Cubanesque
It's a Cuban done grilled cheese-style. Grilled sourdough, roasted pork, sliced ham, Swiss, spicy Dijon mustard, pickles
$9.99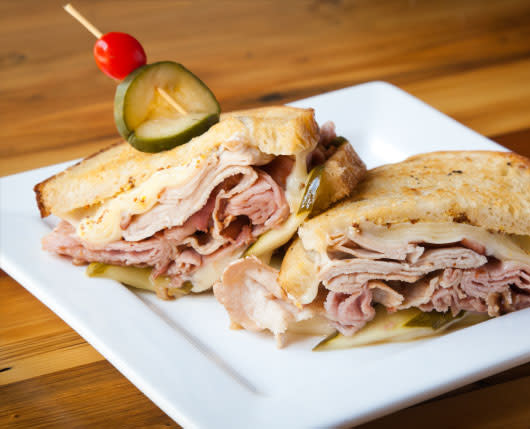 ...AND Even More Sandwiches
Fajita Grilled Cheese
Jalapeño Cheddar Bread, grilled chicken, sliced peppers, onions, Cheddar, habanero Jack & house-made cilantro-lime cream sauce
$12.99
Value Combo
Half order of our Rustic Grilled Cheese with your choice of any soup or any half salad
$9.99
Make any sandwich gluten-free for $1.00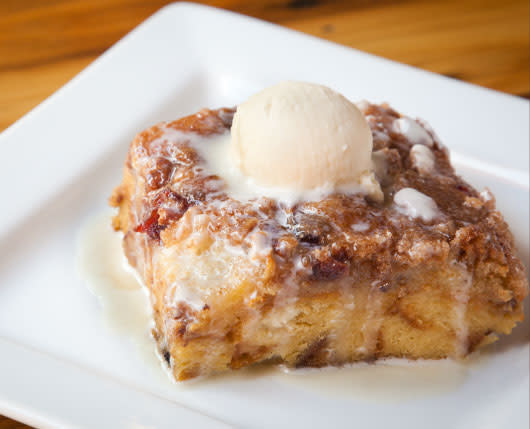 Don't forget dessert!
St. Arnold's Rootbeer Float

Vanilla ice cream floating in a bath of St. Arnold's 
Non-Alcoholic Root Beer
$5.99
Milk Shakes Made with vanilla ice cream and heavy cream; 
available in the following flavors:
Plain Ol' Vanilla $4.99

Malted Milk Chocolate $4.99

Banana & Cinnamon $4.99

Caramel & Sea Salt $4.99
Blueberry Pound Cake
Grilled pound cake with blueberry compote, mascarpone whipped cream, and lemon zest
$6.99
DGC Bread Pudding
Pecans, cranberries, cinnamon, vanilla icing, honey-bourbon
mascarpone with a brown sugar caramel drizzle. Made with
locally-sourced eggs.
$6.99
The Elvis
Grilled brioche, peanut butter/cream cheese/honey mix, 
banana slices, marshmallows, hazelnut spread. It's The King.

$7.99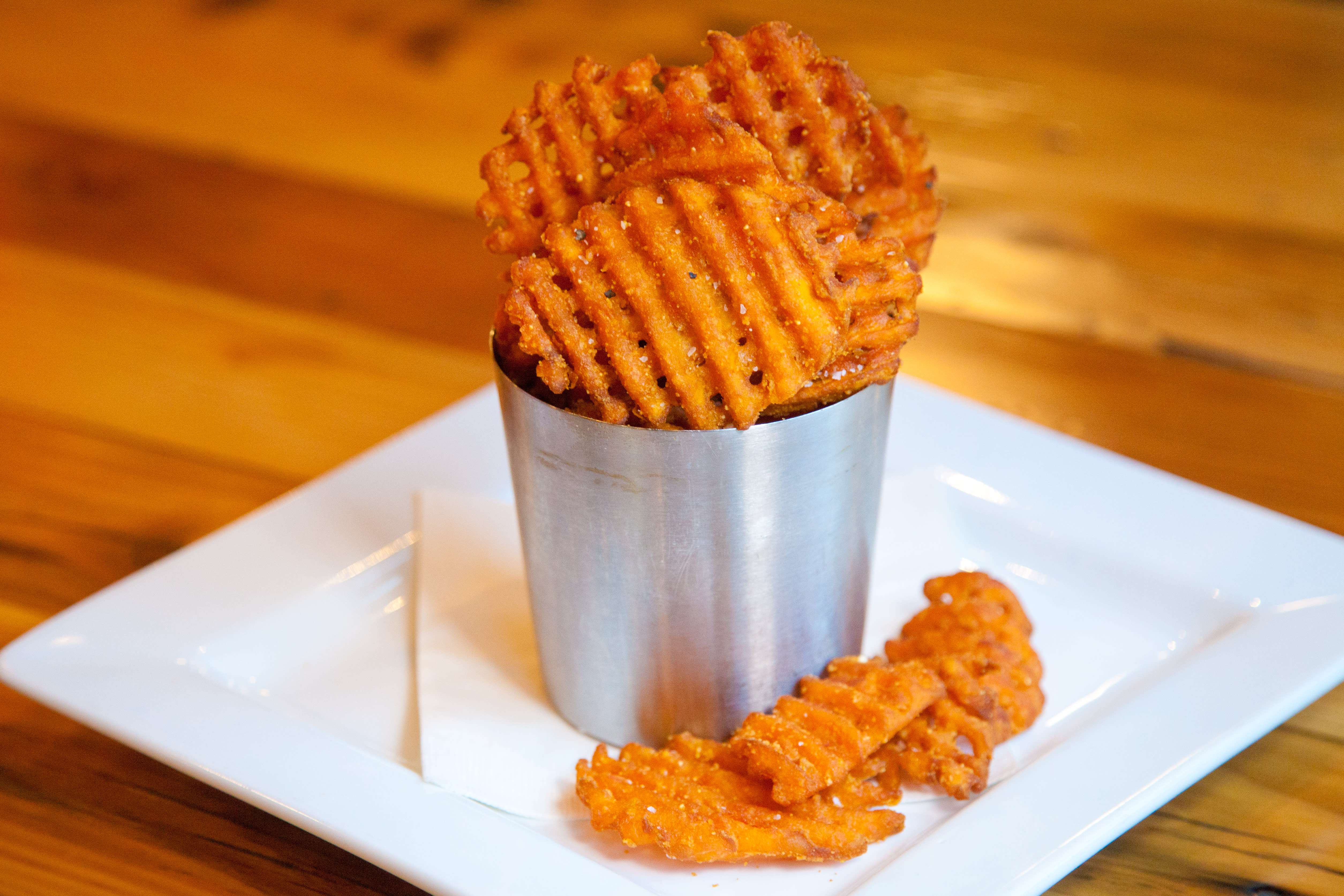 Sides
DGC Fries
Dusted with parmesan and Old Bay® Seasoning
$2.99
Sweet Papas
Waffle-cut, crispy sweet potato fries
$2.99
DGC Chips
Dusted with kosher salt and pepper
$2.99
DGC Onion Rings $2.99